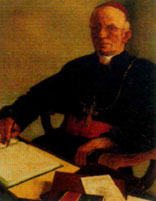 Ordained priest in June 1915, he returned to Maynooth to prepare for a Doctorate in Divinity. He was appointed to the staff of Maynooth and held the post of Professor of Moral Theology before becoming vice-president of the college in 1936.
He became PP Bruff and St. Munchin's before he was appointed bishop in December 1945.
He was consecrated bishop of Limerick on 24 February 1946. Bishop O'Neill prepared the ground for the development of St. Munchin's College and moved the bishop's residence to Kilmoyle.
Despite being a shy person he was the driving force behind a great deal of diocesan work.
He died suddenly in Kilmoyle on 26 March 1958 and is buried in the priests' plot in Mount St. Lawrence, cemetery.