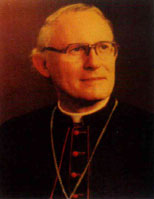 Ordained in June 1950, he went to Louvain for post graduate studies. After a year as a lecturer in Queen's University, Belfast, he was appointed to the staff of St. Patrick's College, Maynooth.
He became president of the college in 1967 and was the driving force behind its development as a lay university, as well as a seminary.
A prolific writer and lecturer in philosophy and sociology, he was appointed bishop in 1974 and consecrated on 14 July of that year.
Controversial in many areas of political debate, he was a leading member of the hierarchy during his years as bishop.
He died on the 3rd of April, 1995 and is buried in St. John's Cathedral.