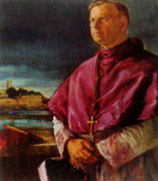 Ordained in June 1936, he joined the staff of St. Munchin's College after he had completed his post graduate studies. For twenty years he taught at the college before his appointment as bishop in 1958.
His episcopate focused on two major works in the diocese, the building of the new St. Munchin's College and the creation of the Limerick Social Service Centre.
For many years he was Secretary of the Irish Episcopal Conference and he attended all the sessions of the Second Vatican Council.
He died on 8 October 1973 and is buried in Mount St. Lawrence beside his predecessor.