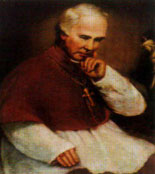 His first appointment was as in Trinidad, in the West Indies, where he spent two years before returning to Limerick to become CC St. Patrick's.
Appointments to St. John's and St. Michael's followed; he was appointed coadjutor of the diocese and consecrated on 25 July, during the first public ceremony to be held in the new cathedral.
He became apostolic administrator of Limerick in1863 and bishop on the death of Dr. Ryan on 4 June 1864.
His time as bishop saw the discovery of the Ardagh Chalice, the loan of the Black Book of Limerick to Maynooth, the building of the tower of St. John's Cathedral and the erection of many churches and schools.
He died on 3 February 1886 and is buried in St. John's.