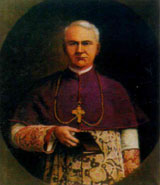 Having served as CC in Rathkeale, Bruff, St. Patrick's Adare, Newcastle West and St. Michael's, he was appointed bishop in May 1886.
One of the most famous Irish bishops of the late nineteenth century, he was also one of the most controversial.
Honoured by Pope Leo XIII for his part in the Plan of Campaign, he ended his life with approval from his people for his stand against General Maxwell in the wake of the 1916 Rising.
He is buried in St. John's Cathedral.