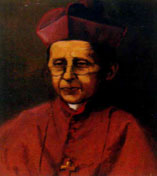 Educated at the Irish College, Rome, he was ordained in 1874. He served as CC in the parishes of Newcastle West and St. Michael's, before becoming Adm. of St. Michael's and eventually PP of St. Mary's in 1895.
He was appointed PP Newcastle West in 1898 and nominated bishop twenty years later, on 10 March 1918. His episcopacy was short lived but he was involved in a number of sensitive political issues.
He introduced the Salesians to Limerick, both the priests and sisters. He died on 2 July 1923 and is buried in St. John's Cathedral.