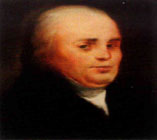 He studied at the Irish Colleges in Toulouse and Paris. Ordained in Paris in 1780, he continued his studies, receiving a Doctorate in Divinity in 1784.
He returned to Limerick that year and was appointed a curate in St. John's Parish. In 1796, Bishop Young appointed him to Newcastle West.
After ten years he was appointed PP Rathkeale and subsequently went to St. Michael's in 1812.
On the death of Bishop Young, he was appointed Bishop of Limerick. He was a tireless worker in Limerick and also on the national political and ecclesiastical scene.
He died in Newtown Villa, his residence in Sexton Street, on St. Patrick's day 1828 and is buried in the same tomb as his predecessor, Bishop Young.