Canon Micheál Liston - A New Deed
Canon Micheál Liston - A New Deed
In this dual-language autobiography, Micheál Liston illustrates how the humanity and freshness of various aspects of our native-traditional culture have both influenced and enriched his life.
Sa Leabhar dhá theangach seo Léiríonn Micheál de Liostún go mionmhinic ina dhírbheathaisnéis seo conas mar a chuaigh an daonnacht agus úire de ghnéithe éagsúla ár dtraidisiúin shaibhir i bhfeidhm go mór ar a shaol.
Launch of Canon Mícheál Liston's book
Venue: St Munchin's College, Corbally, Limerick.
Date: Saturday 23 April 2022
Time: 2pm
All are welcome. The event will be live-streamed below.
Introduction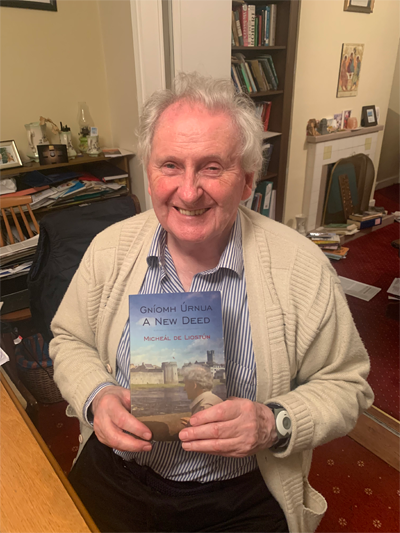 Since his ordination in Rathkeale in 1968, Fr Micheál Liston, a native of Banogue, has served in many parts of Limerick Diocese, city and county, such as St Munchin's Thomondgate, Adare, Abbeyfeale. In his work with young adults, he made contacts all over the diocese from bases in Kilfinane and Foynes. He has written an account of his experience in a memoir in Irish and English. This will be of special interest to those who have been part of Muintearas Íosa and all interested in Irish culture, ár gcultúir dúchais
Ón am a rinneadh sagart de i Rath Caola i 1968, d'fhreastail an Canónach Micheál de Liostún fud fad deoise Luimnigh, ar Chontae agus ar Chathair Luimnigh araon, ar pharóiste Naomh Mainchín, ar Áth Dara, ar Mhainistir na Féile agus ar Fhaing leis. An Bhánóg, Cois Máighe a áit dúchais . Agus é ag obair le haosaigh óga, chas go leor daoine air ó gach cearn den deoise óna cheanncheathrúna féin i bhFaing agus i gCill Fhíonáin. Tá cúntas scríofa aige ar thuras a shaoil agus é leagtha amach aige i mBéarla agus i nGaeilge. Beidh suim ar leith dóibh siúd a bhí mar chuid de Mhuintearas Íosa agus gach duine ar spéis leo ár gcultúr dúchais.