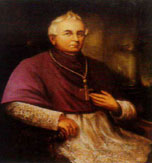 He studied at St. Patrick's College, Maynooth, where he was ordained in June 1810.
His time in his native diocese of Cashel and Emly is somewhat uncertain due to many men in that diocese with the Ryan surname.
It is generally accepted that he was PP Doon before his appointment as PP Mullinahone from which he was nominated coadjutor Bishop of Limerick on 17 March 1828, with the death of Bishop Tuohy.
He was bishop for thirty six years, during which he built St. John's Cathedral and many other churches in the diocese.
He died in 1864 and is buried in front of the main altar in the cathedral.